This post brought to you by Scotts Miracle-Gro. All opinions are 100% mine.
It's that time of the year here in New England where we set out to begin our spring planting and prettying up our yards. I usually buy a few perennials each year and a few annuals. But every year I always buy mulch – I just love the way it looks and love the benefits I get from it.
You can have a great looking garden – just like these: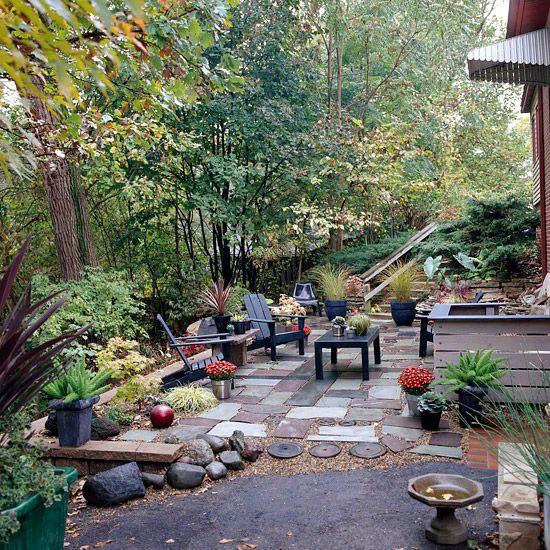 I love the gardens above. I am currently working on one like you see next the house (pic on left) and have one like you see in the pic on the bottom. This year – I've added two trees to that mixture – a dogwood and another liliac tree.
Creating one of those gardens is easy using a few simple tools :
Garden shovel
Little garden shovel/trowl
A 3-prong handheld rake
Fertilizer – when transplanting you should fertilize to avoid transplant shock
Plants/shrubs
Mulch – you have to use mulch – seriously, it makes all the difference in the world in keeping your garden looking attractive as well as the soil from having weeds break through or drying out the soil too fast
Border (if you'd like a decorative border)
As I've said earlier – I buy a few plants/shrubs each year but always by more mulch to replenish the old and add to the new planting areras. That said, I've just learned of a product I had no idea existed – Scotts Florida Select Natural Eucalyptus Mulch. Unfortunately, this product is only for Floridian's, but that's okay – Scotts does have other products for the rest of us 🙂 But for those of you in Florida – this mulch is a great tool for you!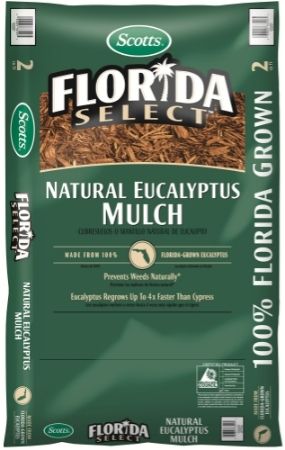 Why would those in Florida want to use this Eucalyptus Mulch?
Scotts Florida Select Natural Eucalyptus Mulch is made from 100% Florida-grown Eucalyptus – it's great for sustainable gardening. It's considered being a renewable resource because it re-grows up to four (4) times faster than Cypress. It's sustainably harvested and plantation grown.
It's made from 100% plantation-grown Eucalyptus trees. It comes with a guarantee that it's free from any demolition, pallet, construction, or other waste materials.
The Eucalyptus Mulch is effective – naturally preventing weeds when using a 3" layer as it blocks growth and access to sunlight. It helps conserve soil moisture and moderate soil temperature.
It's locally grown: 100% Florida-grown that in turn helps support your local economy.
How should you use Scotts Florida Select Natural Eucalyptus Mulch?
Spread 3" deep
Keep mulch several inches from tree trunks and around house foundations or other wood structures.
When and where do you apply the product?
Around trees
Around shrubs
Around flowers or vegetables (after seeds have germinated and you have developing plants)
Do Not Use:
Before seeds have germinated
Around underdeveloped plants
Within several inches of house foundations or other wood surfaces
How much do you need?
The coverage area you can expect from a 2 cu. ft. bag:
12 sq. ft of bedding at a depth of 2 inches
8 sq. ft at a depth of 3 inches
6 sq. ft at a depth of 4 inches
I am jealous of the Floridian's for the mere fact that this Eucalyptus mulch is for Floridian's; however I have the option to use Scotts Nature Scapes mulch. This mulch comes in 3 colors: Classic Black, Sierra Red (my favorite) and Deep Forest Brown. They are all natural forest products, so there is no waste wood and it comes in a variety of textures. The Scotts Mulch helps to prevent weeds (I hate weeding), helps to maintain moisture, and it creates a groomed landscape all year long. Of course, all these products mentioned can be found in gardening supplies.
Are you one to manicure your yard? I'd love to hear your tips.
Please follow and like us: