This post brought to you by White Cloud. All opinions are 100% mine.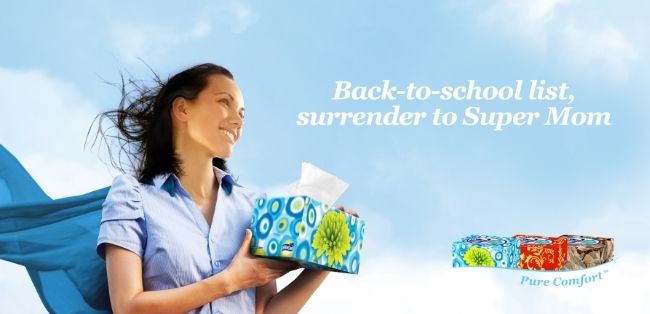 Getting kids ready to go back to school is not my idea of a good time.  It's costly, it's time consuming, and it's one of my most dreaded tasks.  To alleviate some of the costs involved I will purchase items during the summer when my daughter comes across something that she knows that she will need come the start of the school year.  Often times – folders are what are purchased.  She has to have certain ones with certain designs.  Other items that we haven't gotten the list for from the school as to what she will need, I wait on.
In addition to the necessary items needed for classes, teachers send home lists of 'extras' to help out with the non-academic classroom needs.  Now mind you – when I was in school this just never was.  My parents weren't asked or expected to send in facial tissues, hand sanitizers, pencils, scissors, erasers, crayons or any other items of the like.  In fact, these weren't even a request when my 29yo were in school.
That said, that's not how it works these days.  When this particular list makes it into my hands I do what I can to help with these extras.  I do not go overboard by any means and will contribute items throughout the year that I come across that are good deals.  Doing it this way – doesn't hurt the wallet quite as badly.
This year, White Cloud Facial Tissue, which is exclusively found at Walmart and is a soft and soothing facial tissue, is making it so parents can do their share in contributing facial tissues.  They are offering a .75 cent printable coupon that can be used towards their 3-pack or 6-pack of facial tissues.  These multiple packs are great if you have more than one child going to school.  And if you only have one – you might be finding yourself saving money by purchasing a multi-pack and sending in a box once a month or so.
Make a Difference in a Child's Life
When you purchase the limited editions of White Cloud Facial Tissue multi-packs – you will be making a difference in a child's life.  These limited edition packs are designed by kids at Children's miracle Network Hospitals and White Cloud will make a donation to three CMN hospitals in the areas that sell the most boxes!
Before printing your coupon, be sure to check the White Cloud Store Locator, as the White Cloud products are only available in select markets.
Follow White Cloud along on these social networks:
White Cloud Facebook Page
White Cloud Twitter Page
White Cloud Pinterest Page
Please follow and like us: