It's summer. It's hot. It was a great day spent at Water Country! Located in Portsmouth New Hampshire, not far from the NH seacoast, is where you'll find this gem of a water park. A water park that is celebrating it's 30th birthday this year (2014) that is up to speed with modern water rides & slides, concessions, cool pools – for fun to be had for everyone, including the flock of seagulls (herring gulls) – an added touch of feeling like you're at the ocean!
Water Country invited us to be 2014′s Brand Ambassador and we were more than happy to accept.  We were provided the luxury (for us) of having a cabana.  Ours was one that was located above the wave pool that overlooked the Wave Pool.  Being a bright sunny day, the view looking out of the… Continue reading →
When most people think of coupons, they still think of the days when a coupon booklet would come in the mail or with the daily newspaper. Then, a consumer would have to search through the coupon booklet to find a coupon that fit their needs for that shopping day.
This would be especially the case for children. From infancy onward, children have unique needs and wants. This may include new clothes and toys as the child outgrows them to food. Coupons then are an essential tool to help a child live and grow and many parents over the decades relied on the old-format coupon booklets in the mail or newspaper to buy things for their kids.
However, these days many people shop online to meet their needs and wants. Online shopping has grown exponentially over the years to include an immense percentage of U.S. commerce. Instead of a conventional retail… Continue reading →
It does not matter how great your income is; when you have kids, it never seems to be enough. You think you are doing all you can to make frugal choices, but are you? Below is some money saving tips that have more an impact than you might think.
1.  Kiss Your Car Insurance Goodbye – Okay, you need car insurance, but when was the last time you shopped around? Rates often factor in age, address, and credit. So, if you are still paying the same rate as you were five years ago when you lived in a questionable area, had no credit, and still had a speeding ticket that had not dropped off your record, then you are probably paying too much. Call your provider and ask to be reevaluated, and get rates from others while you are at it.
2.  Examine Your Phone Bill – How… Continue reading →
The weekend has come and gone – it was certainly full of excitement. We went to Connecticut on Saturday and to Hampton Beach in New Hampshire on Sunday. We decided to end the weekend fun by curling up in front of the TV watching a great movie with some popcorn. And guess what? We invited the Pop Secret and their Perfect Pop app to join us!
In today's world we reach for a bag of microwaveable popcorn, unlike when I was a child. Back then, we'd get out the big sauce pan, oil and bagged popcorn kernels to pop our own. It was a chore as you had to keep that pan moving so that the popcorn didn't burn. The butter had to be melted separately in another sauce pan. Then you had to mix them together with salt (if you wanted salt). Now don't get me wrong – microwaveable… Continue reading →
The Past Week's Happenings
Digest powered by RSS Digest
Welcome to the Back To School Tech Sweepstakes!
At Mom Powered Media, we believe in higher education and want to help our network readers get there. To help you do just that, we are giving one lucky reader a $500 Visa Gift Card and HP 14? Chromebook PC. There will also be 20 second place winners to take home Back To School Prize Packages. So what are you waiting for? Let's get BTS ready, tech-style!
Special thank you to our supporting co-host bloggers: Monica's Rants, Raves & Reviews, The Jenny Evolution, Memoirs of a Clueless Woman, My Dairy-Free Gluten-Free Life, My Daylights, Barbara's Beat, Saving You Dinero, Shaping Up To Be A Mom, Robyn's View, Coupons and Freebies Mom, A Hen's Nest, Budget Savvy Diva, Mutterings Of A Mindless Mommy, Your Sassy Self and Nest Full… Continue reading →
You're going to LOVE this site we found! It's a very cool site for those who are looking to make/bake something but have limited ingredients on hand.

Picture this scenario in your mind.  It's suppertime.  You ask yourself, "What am I going to make – I want something different than the same ole, same ole.  OR – I have limited ingredients so what can I make with what I have on hand?"
Here's a solution for you!  Go to Supercook.com.  You enter what ingredients you have on hand on the left.  You are not limited to their suggestions – look below that box and where you see 'Add Ingredients,' and enter the ingredients you do have.
From there, you'll see on the right hand side of the page, dishes that you can make.  If for some reason you are missing an ingredient… Continue reading →
Amy over at This Mamas Life recently had a new little one and Kinsight.com is helping us Celebrate! One lucky reader will win a $500.00 Amazon.com Gift Card!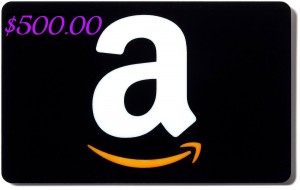 Hosted By: This Mamas Life
Co-Hosted by: Barbara's Beat, StrangeDazeIndeed, Cherry Blossom Love and Joy of Momma Joyner
Sponsored by: Kinsights.com
A little about Kinsights: Kinsights is an online Pediatric Personal Health Record Keeper for parents. Gone are the days where you're being held responsible for keeping track of slips of paper or lugging files and folders containing your children's health information. And in the event of an emergency, you can even have the health records sent to the ER or out-of-town doctor in a snap. Organize your child's growth and developmental milestones, immunizations, medications, allergies, and more.
This tool is amazing and a godsend to parents. Kinsights is also a community where parents can safely seek and share… Continue reading →
The Past Week's Happenings
Digest powered by RSS Digest