This is going to be an awesome giveaway! Do you like to find new ways to store things? or keep things organized? Have a lot of Craft, Hobby products to store? Maybe have a business and need to keep inventory straight, or just use it for the garage or basement? Now you have a chance to win this for yourself.
Trinity International makes some of the best organizational products you have ever seen, and this one is no different – with having all the possibilities that you could use it for.  Definitely check out the full review over at A Medic's World to learn of  some of his ideas of what he is using it for.
Myself – I could see this coming in very helpful for sorting through and organizing all the photos we have.  It's something that needs to be done!
Onto the giveaway, one… Continue reading →
Circle K Great Lakes is hosting the "Need My Polar Pop Cup" Instagram contest. Twenty Eight (28) lucky fans will be winners.  They'll chose one winner a day to each receive a $250 Circle K gift card – good for an entire year's worth of icy-cold Polar Pop Cup refills and more.
About Polar Pop & Cups Circle K
Polar Pop Cups are available for 69¢ every day, any size, including 24 oz and 32 oz cups. Beverage options number over 20 at every store, making Polar Pop Cups a fan-favorite among Circle K shoppers.

Circle K has become one of the most widely recognized convenience store brands, known worldwide for quality products and great customer service. Neighborhood Circle K stores feature our proprietary brands – including Circle Premium Coffees, Froster frozen beverages, and of course, Polar Pop Cups. Circle K also carries a wide range of products and… Continue reading →
**The links in this post are affiliate links and a team member of FCS will receive a small commission if you make a purchase after clicking on a link.
School is back in session and the fundraisers begin full-force!  Are you planning a fundraiser at your child's school? Little Passports is the perfect partner, with an award-winning educational product that kids and parents love.
Here's how it works:
Your community shops at Little Passports and they donate 15% back to your school. They even have a flyer to help you spread the word.
Get more information here: www.littlepassports.com/schools. The fundraising period is from October 21 – 28 and the deadline to sign-up is October 10th – don't miss out - check it out today!
It's NutriBullet Sweepstakes Time!
Hosted By Tammie's Reviews, Giveaways and More, Queen of Savings, Vegetarian Mama, A Little Bit of Everything, Just Plum Crazy,
Michigan Saving and More and Craved Raves.
Sponsored By NutriBullet
You can read Tammie's review of the NutriBullet by going HERE to read it. Everyone I know loves making a smoothie and all sorts of healthy drinks but that is just about to get easier as the NutriBullet is a must have product to do it easier, make it easier and drink it easier.
Onto The Sweepstakes~
1 reader will win a NutriBullet
This sweepstakes will end on 9/29 at 7 p.m. est.
This is open to the U.S. only
Void where prohibited by law
All entries will be verified
Winner will be notified by email
Must be 18 years of age or older
Terms and Conditions are on the… Continue reading
 Yum!  Takes all of 30 seconds to sign up to get your FREE sample of Nesquik from Nestle
*If you've received a Nesquik® sample in the last 3 months will not be eligible for this promotion.
*This post contains affiliate links.
Upper Desk makes an couple of excellent products that allows you to mount your tablet or smart device safely and securely while hanging from your cabinet or shelf, or even atop a desk or counter as well. A Medic's World was able to do a complete review of both of them, and you can find that article by visiting here.
With these devices you are able to use your smart device or tablet while in the kitchen or anywhere where you can mount it allowing you to look up recipes, Skype, watch something on Netflix or Hulu Plus without having to worry about your device getting ruined. The possibilities are endless.
This giveaway is hosted by Mom Powered Media (MPM Network) and sponsored by Upper Desk
One winner will receive a $50 Walmart Gift Card and their choice of either the cabinet mount for tablets/smart devices or the… Continue reading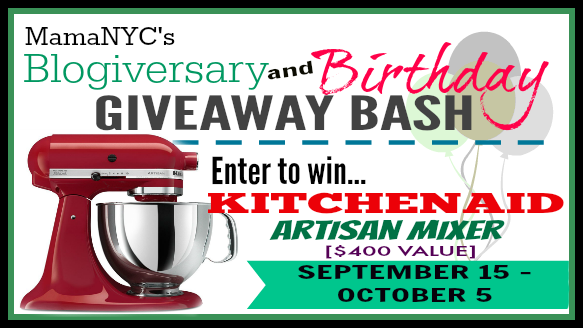 Finger Click Saver has teamed up with a great group of bloggers in order to celebrate MamaNYC's 4-year Blogiversary and birthday!
One lucky winner is going to receive a gorgeous KitchenAid Artisan Mixer in Empire Red and valued at $400.00.
KitchenAid Artisan® Series 5-Quart Tilt-Head Stand Mixer

Color: Empire Red

Easily make your favorite cakes and multiple batches of cookie dough with the 5-quart stainless steel mixing bowl with comfortable handle. With 10 speeds, the standmixer will quickly become your kitchen's culinary center as you mix, knead and whip ingredients with ease. And for even more versatility, the power hub fits optional attachments from food grinders to pasta makers and more.
Just in time for the holidays – so get ready to whip up a delicious batch of cookies and find the recipe to your favorite cake because this mixer can do it all. This event is hosted… Continue reading →
The Past Week's Happenings
Digest powered by RSS Digest
Enjoy Life Cookie Sampler Giveaway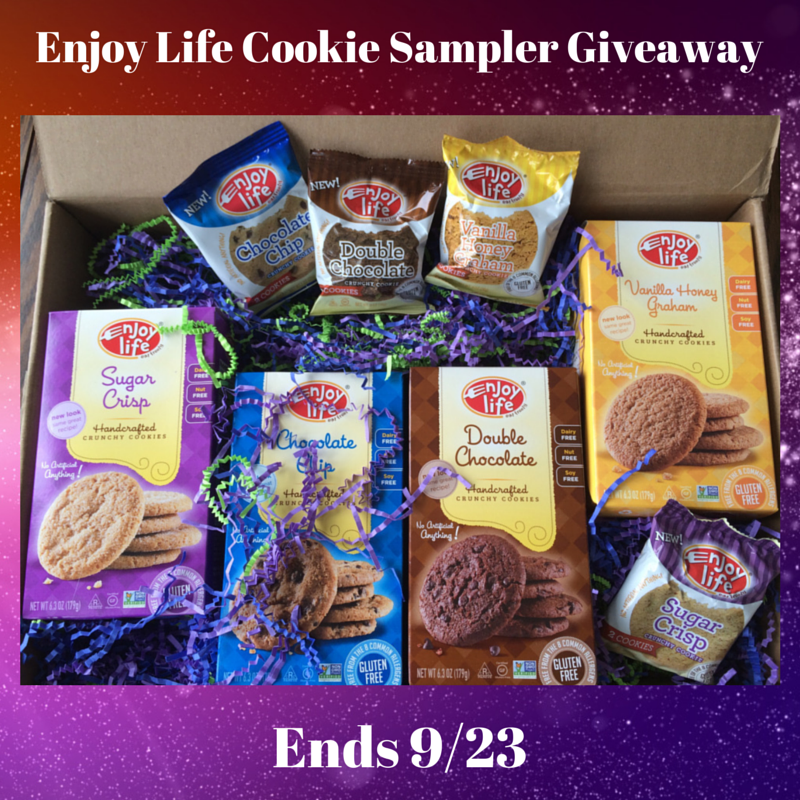 I love Enjoy Life how about you? If you haven't tried their cookies yet you are really missing a yummy treat! The Double Chocolate cookies are pure chocolate indulgence! They didn't last long between my grandson and husband! They loved them. My daughter in law loved the Chocolate Chip and I loved the Sugar Crisp. If you are missing a good sugar cookie you must try these!
I just don't know how Enjoy Life can make such fabulous cookies that are Allergy Free! They contain NO wheat, dairy, peanuts, tree nuts, egg, soy fish or shellfish! These cookies also are Certified gluten free by the GFCO and Verified by the Non-GMO project! They are Kosher and Halal Certified. There is no artificial anything, they are vegan and they are good!
Enjoy life just launched a NEW website! You have got to check out their recipe… Continue reading →